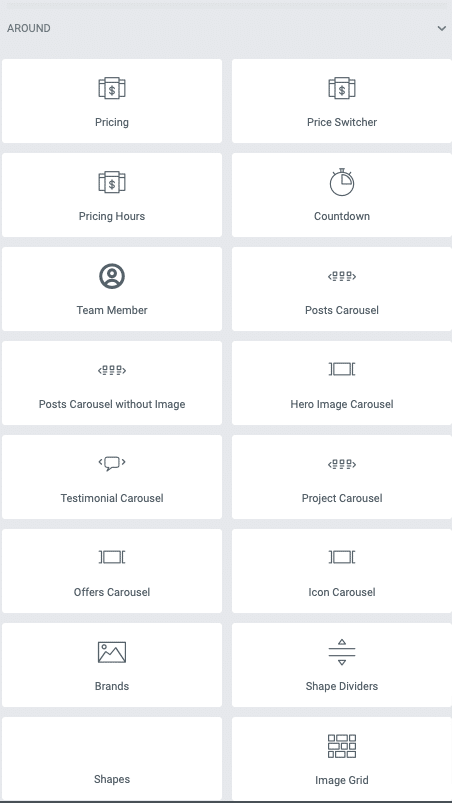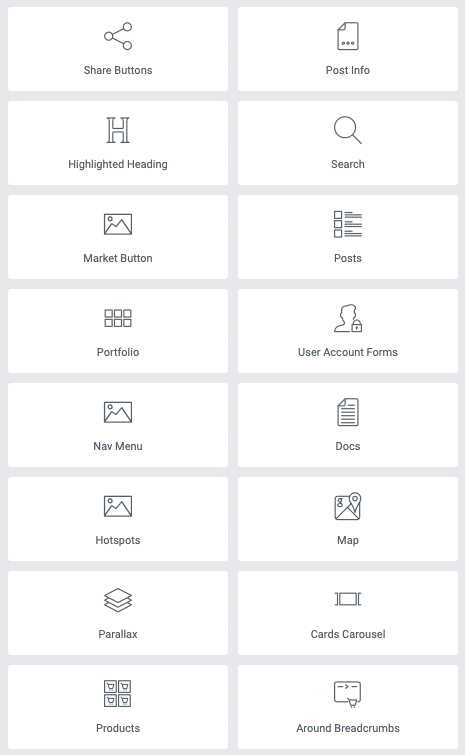 Widgets
In addition to the default widgets. Around includes additional widgets to help you build your website.
Pricing Table & Price Switcher
This widget lets you display a pricing table. The price switcher allows the pricing table to toggle between annual and monthly prices.
Countdown
The countdown widget enables you to add countdown to your page. You can use for the
Team
This widgets is designed to showcase team members. Comes in different styles.
Posts Carousel
Post carousel is used to showcase the posts to your users. It helps you display posts carousel with Images, Post Title, Post Excerpt and meta options.
Hero Image Carousel
The Hero Image Carousel Widget allows you to add interesting and dynamic galleries to your pages
Testimonial Carousel
Testimonial carousel is used for showing feedbacks and writing testimonials of users on your site. You are free to add any kind of proof to make reviews trustworthy like author's name, photo and logo.
Project Carousel
Project Carousel is used to display portfolio post types in Carousel.
Offers Carousel
Offers Carousel helps to marketing your products, service or programme at reduced price or rates.
Icon Carousel
This widget is used to display two or more pieces of content that transition from one to the next in a carousel format.
Brands
Brands lets you showcase the logo of the various brands affiliated. It helps to display the brands stand out to the visitors.
Shape Dividers
This widget allows you to add a shape divider between sections.
Image Grid
This widget lets you display images in grids of different styles.
Share Buttons
Choose from a wide range of social media platforms, and showcase your share buttons in the best possible way: Facebook, Twitter, LinkedIn, WhatsApp and more!
Post Info
The Post Info widget  is used to dynamically display the current post's meta data, such as author, date, time, and comments.
Highlighted Heading
This widget lets you display heading in 2 colors. It can also be used as a regular heading.
Search
Search widget is used to display a search form in Hero blocks. It displays Jobs, Blog or Docs search.
User Account Forms
This widget lets you display 3 forms: Sign In, Sign Up and Password Reset. Sign up is available only if user registration is enabled in Settings > General.
Posts, Docs and Portfolio
These widgets are used to display posts and custom post types.
Nav Menu
The Navigation Menu Widget allows you to display pages, categories, and custom links.
Hotspots
Decide what image to apply, how many hotspots to place on it, what content to display in the description and what links to attach. Each image will be responsive by default, so no worries – it will look good across all devices.
Map Widget
Map widget can display the location of your offices and hosts on a Google map, along with their alert statuses.
Parallex
The parallax widget allows you to add elements to a page with varying speeds during scrolling. This can give the appearance of depth and allows for some neat effects.
Cards Carousel
 Cards Carousel  widget to display two or more pieces of content that transition from one to the next in a carousel format.
Products
Products is the most flexible widget that allows you to display WooCommerce products in grid layout.
Around Breadcrumbs
Use this Around Breadcrumbs Widget for an easy breadcumbs navigation solution to your WordPress site.
Extend
We've added additional controls to existing Elementor widgets to extend their behaviour or modify their CSS classes.