MAS Videos has a built-in video CSV importer.
Import or update hundreds or thousands of videos in your MAS Videos site with a single CSV.
First-time users get started more quickly by exporting and importing videos during setup
Existing users can update tens or hundreds of videos with new info
Create your CSV
To import new videos or update existing videos, you need a CSV containing your video information. You can:
Guidelines
General
CSVs should be in UTF-8 format.
Dates should be defined for the store's local timezone.
Use 1 or 0 in your CSV, if importing a Boolean value (true or false)
Multiple values in a field get separated with commas.
Wrapping values in quotes allows you to insert a comma.
Prefix the id with id: if referencing an existing video ID. For example: id:100
Custom meta is supported/imported but only plain text – no support for JSON or Serialized data.
Taxonomy term hierarchy is denoted with >, terms are separated with commas.
Draft videos are not exported, only published and privately published videos.
Images
Images need to be pre-uploaded or available online to import to your site.
External URLs are supported and imported into the Media Library if used.
You can define the filename if the image already exists in the Media Library.
Import
Adding New Videos
First-time and existing users using MAS Videos can use the CSV to add new videos with one upload.
1/ Go to: Tools > Import > MAS Videos Videos (CSV).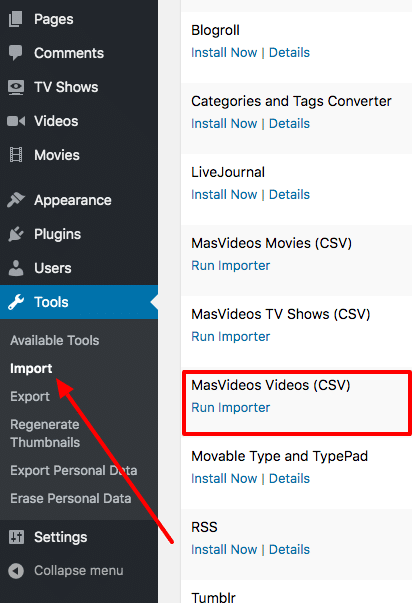 2/ Select Run Importer link. The Upload CSV File screen displays.
3/ Select Choose File and the CSV you wish you use.
CSV delimiter (Advanced option): Generally CSV elements are separated by a comma. If you are using a different delimiter in your file, you can set it here.
Tick the checkbox for Update Existing Videos.
4/ Continue.
The Column Mapping screen displays, and MAS Videos automatically attempts to match or "map" the Column Name from your CSV to Fields.
5/ Use dropdown menus on the right side to adjust fields or indicate 'Do not import.'
*Any unrecognized columns will not be imported by default.
6/ Select Run the Importer.
7/ Wait until the Importer is finished. Do not refresh or touch the browser while in progress.